What's Your Home Worth? Click Here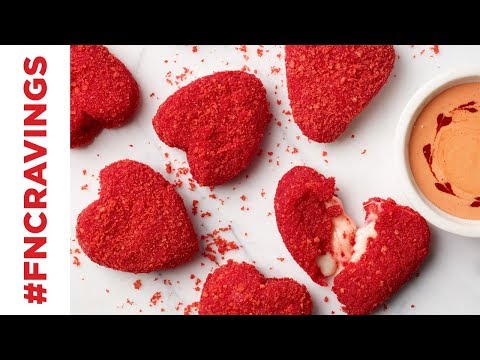 Nothing says "my heart is yours" like these spicy, cheesy, crunchy treats. There's nothing subtle about them — from the blazing red color to the bold flavor, they clearly show your Valentine how much you care.
Get the recipe: http://www.foodnetwork.com/recipes/food-network-kitchen/flamin-hot-cheeto-mozzarella-hearts-3861231
Flamin' Hot Cheeto Mozzarella Hearts
Recipe courtesy of Food Network Kitchen
Total: 2 hr 5 min
Active: 35 min
Yield: 12 hearts
Level: Intermediate
Ingredients
Two 1-pound blocks part-skim mozzarella, such as Polly-O
Three 8 1/2-ounce bags spicy cheese-flavored snacks, such as Flamin' Hot® Cheetos®
4 large eggs, lightly beaten
Vegetable oil, for frying
1/2 cup ranch dressing
2 tablespoons Vietnamese hot sauce, such as sriracha
Directions
Special equipment: a 2 1/2-inch-wide heart-shaped cookie cutter and a deep-frying thermometer
Put the unwrapped mozzarella blocks in the freezer for 30 minutes to firm. Meanwhile, pour the cheese-flavored snacks into a food processor and pulse until finely ground. Reserve 1 cup for sprinkling at the end and transfer the rest to a large bowl. Put the eggs in a separate large bowl.
Unwrap the cold blocks of mozzarella and use a long, thin knife to cut them in thirds lengthwise through their narrow sides (like sandwich bread), so you have 6 thinner blocks of mozzarella. Using a 2 1/2-inch-wide heart-shaped cookie cutter, cut out 2 hearts of cheese from each thin block; you should have 12 hearts total. Using the tip end of the heart cutter, cut out a deeper cleave in the top of each cheese heart to make the heart shape more defined. Save the scraps for another use.
Dip each cheese heart in the beaten egg, then toss in the cheese dust until fully coated. Repeat 2 more times to create a very thick coating, then transfer to a baking sheet. Freeze the cheese hearts for at least 1 hour and up to 3 days.
Pour enough oil into a large heavy pot to come 2 inches up the side and attach a deep-frying thermometer to the pot. Heat the oil over medium heat to 350 degrees F. Using a slotted spoon or strainer and working in 3 batches, lower the hearts into the oil and fry until browned at the edges and the cheese is fully melted, about 4 minutes. Lift the hearts from the oil and transfer to paper towels to drain.
Transfer the hearts to a platter and sprinkle with the reserved cheese dust. Pour the ranch dressing into a small serving bowl and pour the hot sauce in the center of the ranch dressing. Drag the tip of a knife straight through the center of the dressing and hot sauce to form a heart shape. Serve the fried hearts while hot with the spicy ranch dipping sauce.
Copyright 2017 Television Food Network, G.P. All rights reserved.
Subscribe to our channel to fill up on the latest must-eat recipes, brilliant kitchen hacks and content from your favorite Food Network shows.
 
Watch free FULL EPISODES of Food Network shows: http://www.foodnetwork.com/videos/full-episodes?soc=youtube
Visit Food Network online: http://www.foodnetwork.com
Like Food Network on Facebook: https://www.facebook.com/FoodNetwork
Follow Food Network on Twitter: https://twitter.com/FoodNetwork
Follow Food Network on Instagram: 
https://www.instagram.com/foodnetwork/
[Read More …]
Source: Homes and Lifestyle